Mal comecei a ler este texto de Hilary Austen, "
Reading between data's lines
" , e como eu gosto de Hilary Austen, começou a formar-se e a consolidar-se o pensamento que dá título a este postal.
.
A "Grande" lição da minha vida profissional, e reconheço-o com contentamento, agora que estou deste lado do precipício e onde vejo que há muitas mais oportunidades de criar futuros melhores, foi ter percebido, descoberto, aprendido, ouvido e lido a mensagem deste artigo.
"Thinking artistically may help us in the liberal and fine arts, but how the artistic method works outside of an artist's realm is still unclear. What exactly does it entail?
.


Be open, we're told. Be aware. Be empathetic. Engage with the moment. Embrace uncertainty

." [

Moi ici: Para quem acaba de ler Spender, esta referência à incerteza no mundo dos negócios está carregada de simbolismo e profundo significado. O resto encaminha-nos para o particular, para o diferente, para o único, para longe do vómito industrial

]
E, sobretudo:
"·

Scientific inquiry starts

with a question–then encodes qualities with symbolic or numeric values. Its findings are objective facts, derived from analyzing data and stated in standardized language including reports, theories, recipes, algorithms, statistics and charts.
.
·

Artistic inquiry starts

with a

person experiencing qualities–then relates, shapes, and creates further qualities to create qualitative forms

. [Moi ici Como não pensar no sucesso das indústrias tradicionais portuguesas, no momento 3, depois de terem percebido que o low-cost era impossível com a China por perto e, terem descoberto as alternativas] Its findings entail personal understandings expressed through stories, prose, poetry, speeches, images, compositions, objects, actions and performances."
Quando a maioria capitulou e absorveu a frase "China a fábrica do mundo" (recordar André Macedo e Daniel Bessa), já a abordagem artística, não sabia que tinha esse nome, me tinha salvo e até permitiu este acto
contrarian
em Março de 2008.
.
BTW, ontem no Twitter o @mlopes publicou esta imagem: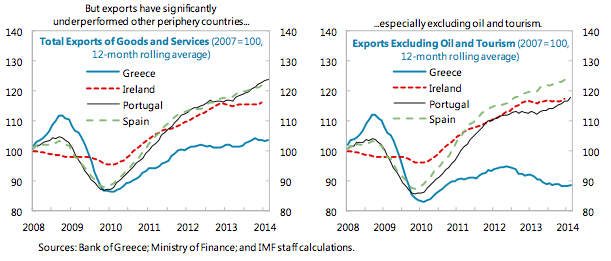 Notável este desempenho... recordar "
O que é que vão inventar agora?
"
.
Conseguido com os tais
piores empresários do mundo
, segundo os teóricos de Lisboa. E, muito pouco à custa da abordagem científica... interessante relacionar isto com "
Governo quer mais doutorados nas empresas
". Não estou contra, mas a "Grande" lição da minha vida profissional não rejeitando essa via, ultrapassa-a de longe com o lado humano... lembro-me sempre de um final de tarde, já noite fria de Dezembro, em Felgueiras, em que industrial e filho "brincavam" com máquina comprada em 2ª mão para perceber que efeitos conseguiriam produzir no calçado com mais ou menos tempo de lavagem, temperatura e centrifugação.