Este texto publicado ontem, "
Consumo de bebidas alternativas ao leite disparou 19% num ano
", contém algumas pistas interessantes para reflexão.
.
O primeiro ponto a chamar a minha atenção foi este número: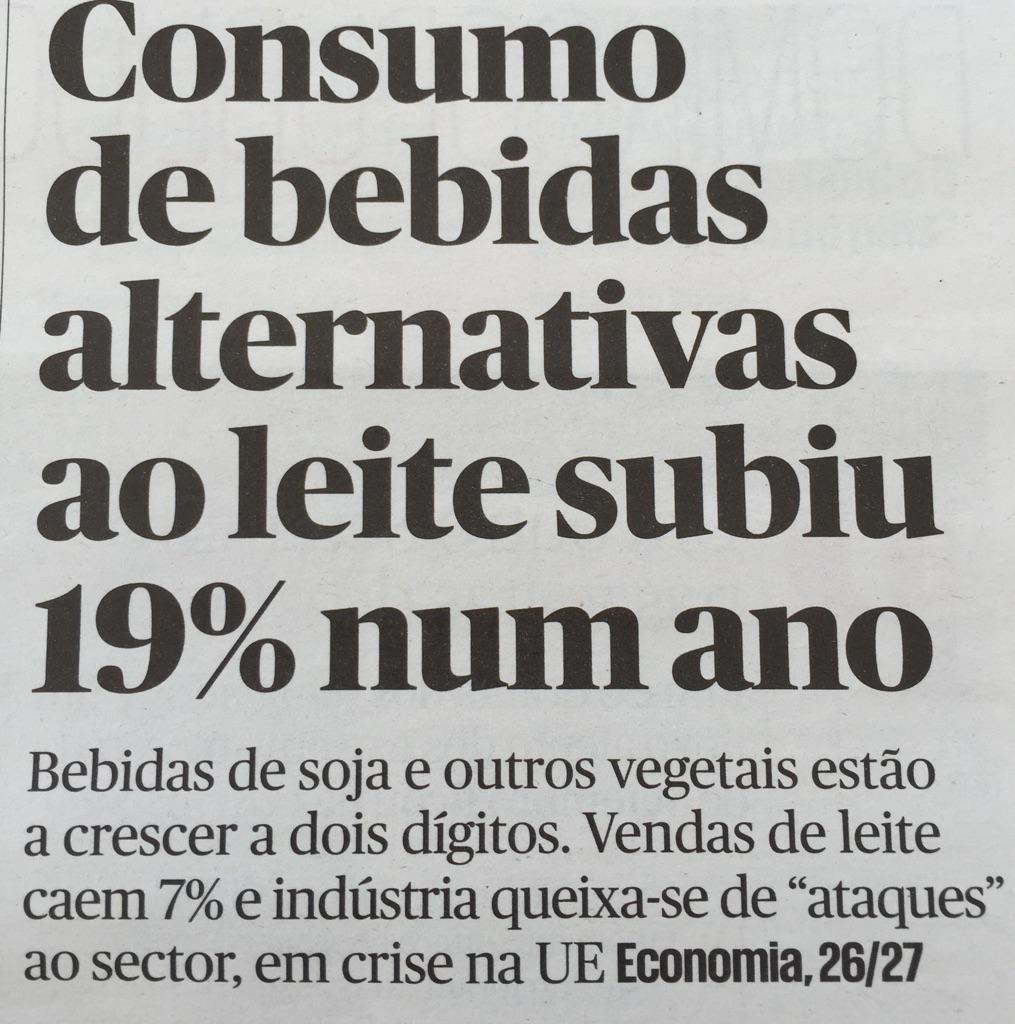 Ainda antes de ler o conteúdo do artigo, "saltei" para a loja online de um hipermercado e comparei os preços destas bebidas alternativas com o do leite.
"Mesmo com preços que podem começar nos 0,79 euros,

quase o dobro de um litro de leite UHT

, estão a conquistar cada vez mais adeptos, numa altura em que o consumo de produtos lácteos está a cair e os produtores se confrontam com excesso de produção e uma vertiginosa queda de preços."
Isto merecia meter uma dúzia de produtores fechados numa sala durante 12 horas a reflectir sobre o que isto quer dizer.
O problema não é o preço!
.
Interessante como o mundo muda e os intervenientes continuam influenciados, manietados, cegos, pelas leis do passado.
.
OK, o problema não é preço.
Mas o
leite é a commodity alimentar por excelência
.
.
.
Em que é que uma dúzia de produtores pode apostar para que o seu leite deixe de ser uma commodity? Têm de o entregar às mega-fábricas que os anonimizam? Seria diferente se pudessem vender leite que fosse mais próximo do leite de vaca? Seria diferente se pudessem vender leite que fosse rastreável à sua exploração concreta?
Seria diferente se pudessem vender leite que jogasse a cartada da autenticidade e da proximidade?
Alguém devia mostrar-lhes aquela frase sobre os
vinhos do Douro
:
«O lucro de 10 mil garrafas de LBV é o mesmo de 400 mil garrafas de Tawny.»
Será que no futuro continuará a fazer sentido trabalhar para uma mega-fábrica a perder dinheiro só porque foi sempre assim que se trabalhou?
.
Recordar:
(2012)"he rise of small farms is possible with sales direct to consumers (raw milk certification), direct processed either by working with small local cheesemakers or small yogurt facilities, or creating on farm processing, agritourism, and young farmer incentives."
Escrevi o trecho acima ontem. Hoje, li "
Holandês lança queijo tipo gouda "made in" Alentejo
". Reparem no que saliento:
"O queijo é feito com o leite, "

não pasteurizado e biológico

", das 15 vacas da quinta,
...
A produção de queijo tipo gouda arrancou em 2010, após a falência da empresa espanhola que comprava o leite produzido na quinta, mas a licença para a sua venda só foi obtida "quase há dois anos".[

Moi ici: 3 anos para obter uma licença... a protecção aos incumbentes, a insanidade dos burocratas, ...]


...
A ideia de fazer queijo, conta, "esteve adormecida durante mais de 20 anos", mas, com o fim do negócio da venda de leite, lembra que decidiu voltar ao seu "ofício antigo".
...
"

Optámos por um regime extensivo

, sem praticamente [utilizar] rações e só pastagem verde e fenos", assinala, indicando que, desde então, já não vende leite para fora e "todo o leite produzido é para transformação em queijo".
...
Uma unidade hoteleira de Évora, um restaurante e um supermercado de Montemor-o-Novo e lojas gourmet e de produtos biológicos de Lisboa e do Algarve são os principais clientes de Jan Anema."
Notas:
Estranho que um artigo [o inicial] deste tipo não refira nem uma das críticas e receios que estão a crescer em relação às bebidas de soja.
Será que os produtores de arroz podem aproveitar o interesse crescente por leite de arroz?