A propósito de "
Já não há Champions e Liga espanhola, mas presidente da SportTV diz que não vai baixar o preço da mensalidade
"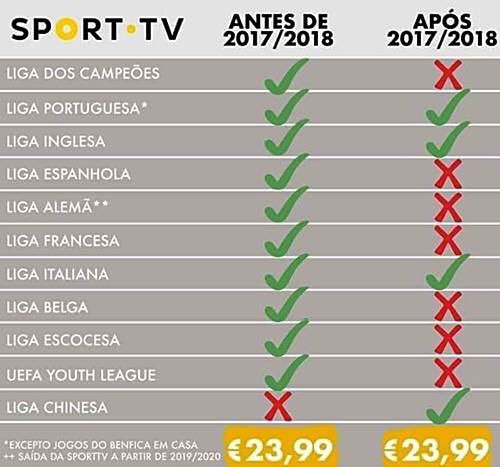 Esta técnica costuma resultar mal, é a técnica dos estados, mantêm ou aumentam a impostagem ao mesmo tempo que reduzem os serviços prestados. Os estados têm o poder das armas para se imporem aos saxões (contribuintes), as empresas, em economias livres, não.
Por isso, este movimento, pode dar maus resultados. Aumentar preços sem aumento do valor criado para os clientes, pode ser perigoso:
"Procter & Gamble said it was raising prices on some of its biggest brands,

a strategy shift after the consumer-products giant reported another quarter of lackluster revenue growth

.
.


After more than a year of trying to combat weak demand with lower prices on staples

like Tide detergent and Gillette razors, executives said Tuesday

the company was changing course. P&G said it would increase prices

on its Pampers brand in North America by 4% on average and by 5% on its Bounty, Charmin and Puffs brands.
.
The increases go into effect later this year or in early 2019. As the biggest player, P&G tends to drive industrywide pricing moves."
Quando a procura baixa e uma empresa responde com uma baixa de preços, e o resultado é negativo. Talvez seja sintoma de uma mudança mais profunda. E talvez a solução passe por oferecer melhores produtos a um preço superior, não os mesmos produtos de sempre a um preço superior.
Trecho retirado de "
Procter & Gamble, in a Strategy Shift, Moves to Raise Prices
"